Welcome to CIBC Mellon Careers
Life at CIBC Mellon
Empowering. Challenging. Rewarding.
CIBC Mellon is recognized globally as a Canadian leader in asset servicing, and great people help set our company apart.
We are a diverse and dynamic workplace where employees take an active role in delivering on strategic objectives while advancing their individual career goals. We encourage innovative thinking and give our employees the support and resources they need to turn great ideas into actions.
Our talented employees are one of CIBC Mellon's most important assets: we know that investing in recruiting, retaining, motivating and engaging our team helps set our company, clients and stakeholders up for success. Our culture of excellence, client focus, teamwork, and integrity encourages CIBC Mellon employees to be community leaders, champions of learning, and advocates of inclusion.
We reward and recognize productive people, provide a compelling total rewards offering, and create opportunities for employees to thrive. Employee engagement is a central pillar of our corporate goals: we work to foster an environment that encourages creativity, personal and professional growth, and making a positive difference for our communities — all while having a little fun together along the way.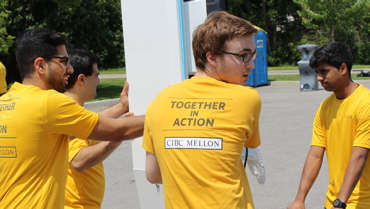 Corporate Social Responsibility
We empower employees to make a positive difference in the communities where we live and work.  Our CSR program is employee-focused, employee-led and employee-driven.
Explore CSR at CIBC Mellon (PDF)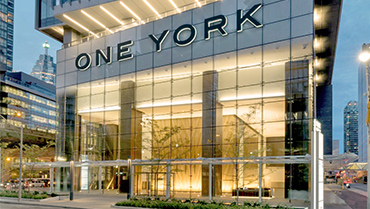 Inspired Workspaces: For Our Team and Our World
Employee comfort and wellbeing is always a priority at CIBC Mellon. By moving our corporate headquarters to 1 York Street in Toronto, we were able to combine aspects that enhance both employee wellbeing and environmental sustainability.
Learn more about environmental sustainability at CIBC Mellon