November 2021

Canada's pension plans enjoy a well-deserved global reputation for strong management and resilient performance, but they are not immune to shocks in the markets in which they operate. The COVID-19 pandemic – a true Black Swan1 event – has been testing pension plans and their asset managers, prompting significant volatility in financial markets and reshaping the global economy.
This is the backdrop against which we surveyed 50 of Canada's leading pension plans, seeking insights into how they have coped with the crisis, the challenges and opportunities that now lie ahead, and how they are positioning themselves accordingly. In this report, we present the findings of this research.
The good news is that Canada's pension plans are well-governed, maintaining diversified portfolios that deliver returns closely aligned to their long-term liabilities. This far-sighted approach has provided some protection from the disruption caused by COVID-19; most plans have the time and the space they need to work through the immediate impacts of the pandemic on short-term returns.
In this difficult environment, pension plan leaders are now thinking hard about what is needed to maintain confidence in their ability to meet their long-term obligations – above all, to fund pension payments to their members. Some repositioning will be required.
In the first chapter of our report, we present our findings with respect to how pension funds are adapting their investment strategies. Over the months ahead, we will invite you to join us as we explore other dimensions of Canada's innovative pension and investment landscape.
View Chapter One.
In the second chapter, we present insights, opportunities and challenges with which Canadian pension funds are grappling as they seek to position their organizations for the future. In particular, we explore how Canadian pension plans are significantly advancing their in-house teams and capabilities with respect to investment and technology operations, even as they look to strategically outsource key functions to achieve scale and capture opportunity.
View Chapter Two.
In this third chapter, we explore how Canadian pension plans are seeking scale via consolidation, and in some cases transforming into asset managers who compete for external mandates. The ongoing evolution of Canadian pension plans as asset managers will bear close observation by industry participants and by global pension industry watchers – particularly given the significant disruption to markets in 2020 and into 2021.
View Chapter Three.
In this final chapter, we review some of the longer term implications across research dimensions such as asset management outlooks, outsourcing strategy, industry consolidation and technology. We also explore questions around liquidity, assess lessons learned from the pandemic dislocation, and look to the long term implications as Canadian asset owners look to the future.
View Chapter four.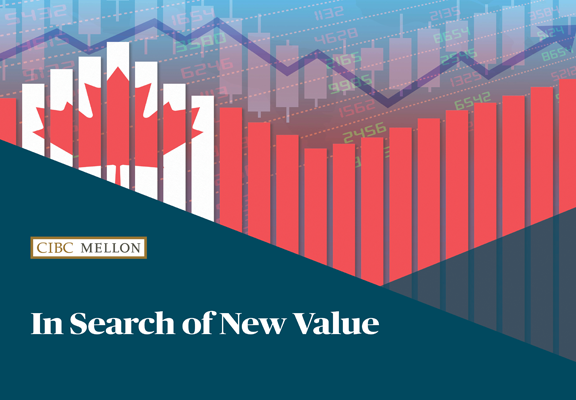 In Search of New Value: The Collective Report
We are pleased to share a comprehensive collection of our research, encompassing the four chapters on implications and outlooks for Canadian pension plans.
A special thank you to the many clients, industry stakeholders and research partners that engaged with CIBC Mellon as we completed the multi-part "In Search of New Value" project. This research would not have been possible without a tremendous amount of input, commentary and feedback.
Watch for future research from CIBC Mellon as we explore topics in collaboration with Canadian asset owners, asset managers, insurance companies and global investors into Canada. To discuss our research efforts, learn more about the themes we are exploring, contact your CIBC Mellon relationship manager.
Connect
Contributors

Alistair Almeida
Segment Lead, Asset Owners, CIBC Mellon