January 2014

CIBC Mellon takes steps to smooth transition for affected clients
January 2014 marks a critical milestone in the transition of Canadian fund financials to International Financial Reporting Standards (IFRS) from GAAP. Specifically, most investment funds in Canada will be required to adopt IFRS for fiscal years commencing on or after January 1, 2014.
Background
The International Financial Reporting Standards (IFRS) were developed in response to the growing need among companies and institutional investors worldwide for more uniform standards with respect to accounting, reporting and financial statement interpretation. IFRS has been implemented in more than 100 countries around the world and it was determined that IFRS would replace Canadian GAAP for publicly accountable enterprises.
IFRS was adopted in 2008 by Canada's Accounting Standards Board (AcSB) and a phased-in approach was taken to implementation in 2011. The implementation timelines have been staggered in recent years according to the type and reporting structure of the Canadian organization.
Since AcSB adopted IFRS, CIBC Mellon has been working with clients to assess IFRS requirements and to develop solutions, in particular for those investment fund company clients who have chosen CIBC Mellon as their fund and institutional accounting services provider.
Focus on Fund Companies
CIBC Mellon would like to draw client attention to a number of key factors connected to IFRS requirements for 2014. IFRS is applicable to Canada's investment fund companies, including mutual fund companies, ETF and hedge fund providers. And, as indicated in the timeline below, work must commence immediately so that mid-year fund financials are produced in accordance with IFRS.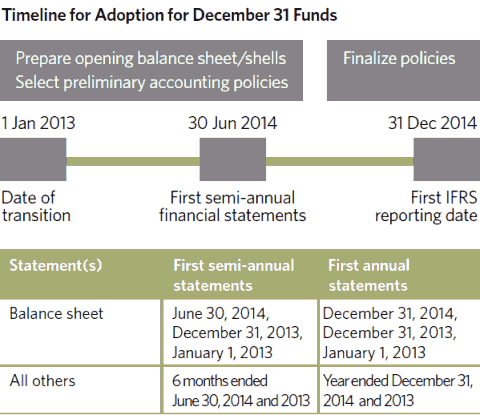 A number of industry reference documents have been prepared to raise awareness of IFRS issues and application. Among those documents is the "Investment Funds IFRS Tool Kit" released in October 2013 by the Investment Funds Institute of Canada. The IFRS Tool Kit was prepared with assistance from various industry specialists, including CIBC Mellon's Sandy MacDonald and Ronald Landry.
The impact of IFRS will primarily affect a fund's financial statement presentation and disclosure requirements. In particular, the previous December 2013, June 2013 Comparative Financial Statements and Opening Balance Sheet must be restated under IFRS and this will require a significant amount of work and resources from CIBC Mellon, in order to ensure a smooth transition for clients. (See additional details below). The fund's NAV is not impacted by IFRS.
To assist clients with a smooth transition to IFRS, CIBC Mellon has listed a brief summary below of three key areas which we encourage clients to review with their auditors.
Three key areas which clients are encouraged to review with auditors

Factors to consider

Background Next steps

Anticipated approach

Next steps

(1) Determining liability treatment

Redeemable fund units are typically classified as equity. However, application of IFRS- IAS 32 to puttable units requires qualifying the units as financial liability or as equity, in addition to various other requirements.

Analysis is required to determine the characteristics of the fund and how the fund units are to be classified and presented under IFRS.

Multiple-Series Funds and Corporate Class Funds (because of their characteristics) would meet criteria of IAS 32.16 and will be presented under liability presentation.

Single series trust funds must be assessed more closely as they must satisfy all the criteria laid out and certain conditions must be met (including approach to distributions and management fees) in order to qualify as financial liability.

CIBC Mellon encourages clients to meet with auditors and review/ determine the definitions and qualification of units.

CIBC Mellon will draft opening and IFRS comparative fund financial statements based on client assessment and agreement from clients' auditors.

(2) Classification of Financial Instruments under IFRS

Under GAAP, investments were measured at fair value, with changes in fair value recorded as profit or loss in the period in which it arose.

Investment entities will now ave various considerations in measuring their financial instruments which include using methods other than fair value in certain instances.

Financial instruments must be classified under IAS 39 or IFRS 9 (IAS 39 will apply on transition unless IFRS 9 is early adopted).

For example, for each type of investment, the fund must determine the accounting model that applies to that asset and determine if fair value treatment is available.

In terms of IFRS 9 - equities are usually classified as FVTPL (fair value through profit loss); debt instruments are classified according to principal and interest cash flow; certain other assets must meet financial instrument definitions for separate disclosure.

In terms of IAS 39-Investment funds must determine whether investments are held for trading, hence classified as FVTPL. As well, if certain other criteria are met, designation at FVTPL would also apply.

Clients must determine whether to adopt IFRS 9 or IAS 39.

(3) Presentation and disclosure of Effective Interest Amortization

To comply with NI 81-106, interest income must be disclosed as a separate line item.

The effective interest method requires the use of effective interest amortization on all bonds, for example, from the start of the comparative period.

The reclassification threshold for assessment of materiality will be determined with audit firms.

CIBC Mellon will need to discuss the tax and accounting treatment with clients. Clients are encouraged to also discuss this with their auditors and provide direction to CIBC Mellon.
Clients are reminded that the information presented above is a brief summary for reference only. There are multiple changes in presentation and disclosure that clients need to consider. The information presented above also does not consider the particular circumstances of any individual client. All CIBC Mellon clients are encouraged to discuss IFRS with their auditors and advisors.
FRS and National Instrument 81-106 - Investment Fund Continuous Disclosure
The CSA has made Amendments to National Instrument 81-106 - Investment Fund Continuous Disclosure ("NI81-106") requiring investments funds, for financial years beginning on or after January 1, 2014, to prepare financial statements in accordance with Canadian GAAP ("CGAAP") applicable to publicly accountable enterprises and to report in compliance with IFRS. They also updated accounting terms and phrases in NI81-106 to reflect IFRS.
From a presentation point of view, both preparers and users of the financial statements will see some changes. The most obvious changes are to the titles of the statements and their presentation order. Below shows previous orders and titles versus new order and titles:
Previous Orders and Titles Versus New 0rder and titles

| Pre-IFRS | Post-IFRS |
| --- | --- |
| 1. Statement of Net Assets (becomes Statement of Financial Position) | 1. Statement of Financial Position (previously Statement of Net Assets) |
| 2. Statement of Operations (becomes Statement of Comprehensive Income) | 2. Statement of Comprehensive Income (previously Statement of Operations) |
| 3. Statement of Changes in Net Assets (becomes Statement of Changes in Financial Position) | 3. Statement of Changes in Financial Position or Statement of Changes in Net Assets attributable to holders of redeemable units (previously Statement of Changes in Net Assets) |
| 4. Statement of Cashflows (becomes Statement of Cash Flows) - was not required for most Funds prior to IFRS | 4. Statement of Cash Flows previously Statement of Cashflows) - now mandatory |
| 5. Statement of Investment Portfolio (becomes Schedule of Investment Portfolio) | 5. Schedule of Investment Portfolio (previously Statement of Investment Portfolio) |
| 6. Notes to Financial Statements | 6. Notes of Financial Statements |
Many of the changes above will flow through to the Management Report of Fund Performance. Another change of note is the title of "Interim Financial Statements" will be substituted with the title "Interim Financial Reporting."
Please visit the CSA web site to obtain a copy of the complete document on amendments to NI81-106.
It is anticipated that CIBC Mellon will apply the following to Fund Financial Statement Templates:
IFRS 13 valuation policies identical used in calculating the NAV (option to switch back to close prices). IASB issued IFRS 13 Fair Value Measurement which defines fair value, sets out a single IFRS framework for measuring fair value and requires disclosure about fair value measurements. The standard allows the use of mid-market pricing or other pricing conventions that are used by market participants as a practical means for fair value measurements within a bid-ask spread. This may result in the elimination of the differences between the transactional NAV and NAV per unit at financial reporting dates.
IFRS1 – Preparation of opening balance sheet under IFRS

Transitional Balance Sheet - Investments reported at close
Opening numbers (January 1, 2013) required on Notes Disclosure schedules which includes:

Credit Risk
Interest Rate Risk
Currency Risk
FAS 157 levels (including Level 3 reconciliation)
Reconciliation of Equity (Net Asset attributable to holders of redeemable units) and Comprehensive Income

Statement of Cash Flows required – presented cash flow from operating activities using the indirect method of reconciliation rather than the direct method
Classified the investor units at liability method
Applied IFRS 9 or IAS 39 Financial Instruments – Classification and Measurements
Reclassification/restatement to effective interest method, if applicable
Financial instruments are classified in multiple buckets (for example, both held for trading and designated at FV through P&L), IFRS requires separate disclosure of profit and loss by bucket (realized and unrealized)
Statement of Investments will become a schedule
Withholding taxes have to be a separate line item in expenses
Additional Schedules on Notes to Financial Statements, for example:

Concentration risk included within the notes (rather than SOI) and includes comparative information
Financial instruments by category table
Net gain (losses) on financial instruments at FVPTL by category
Note disclosure related to opening Balance Sheet
For more information on CIBC Mellon's response to IFRS, please contact your CIBC Mellon relationship manager.
Download
IFRS Hits Canada's Investment Fund Companies in January 2014
Connect
Expert Contributors

Ronald Landry
Executive Director, ETFs & Alternative Investments, CIBC Mellon

Sam Randev
Assistant Vice President, Investment Fund Services, CIBC Mellon
Related